So....you may have noticed that there have been a few changes here.
:)
I have been wanting for awhile now to come up with a header that would show all the seasons we have experienced here in the mountains.
So yes, all the pictures are mine.
I finally came up with something that expresses that I want you walking with me though all the seasons God brings us through.
I value your friendship and I love having you as a sister in Christ.
Anyhooo to get back on subject......Holly from Crown Laid Down
offered to do a background for my header.
And that was kind of scary because you know I like to flip my look around.
But..... I LOVE this and it will be a joy to keep this look for a long time. I even have my own button for my blog...how cute is that? Now I don't expect you to take it and put it on your blog....it is enough that you come here to read and leave your comments.
\o/......I thank my God for you!
If you are looking to do some seasonal changes on your blog.....or want a make over.....Go and check her out.
Click the button below and it will take you on over to her site.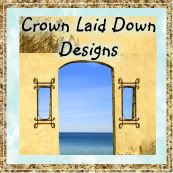 She is a real sweet heart......and she is serving the Lord through her work.
Let's support a sister!